"
We look like everyone else. Sometimes we act like everyone else. We are everywhere, on every street. We live in a way you might consider normal, provided you don't look too hard. Welcome to Scion. No safer place.
"
- Samantha Shannon, The Bone Season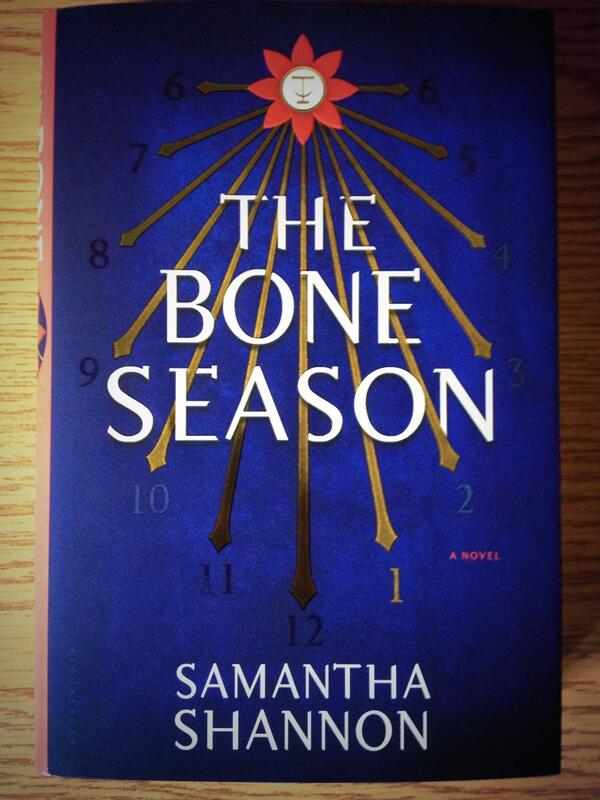 Got a nice surprise when I arrived home last week (for the first time in eight months, no less!) - a copy of
The Bone Season
by
Samantha Shannon
(set to be published August 20th, 2013 by Bloomsbury) from Penguin Canada, which had come in the mail only a few days before me. I was immediately intrigued by the soft blue, velveteen cover interspersed with bars of golden foil and metallic numbers*. A quick skim of the accompanying press release revealed that this is the first in a seven-part series, rights have sold in 21 languages, and film rights have already been optioned. Shannon also happens to be the same age as me (21), and personally, having struggled to find pockets of time to write during the school year and between interning and RAing during the summer, I was definitely quite impressed, so this shot straight to the top of the TBR list.
The Bone Season
did not disappoint - I ended up devouring it in a little over a day this weekend. There are so many aspects of the story that were very well done. Disbelief suspended, the parallel world Shannon has created is built credibly and realistically. (Having
visited London
just over a year ago and feeling nostalgic to begin with, it was super cool to be immersed back in city, in a way. I didn't manage to make it out to Oxford while I was there, but it was definitely fascinating to see parts of
The Bone Season
set there.) The voice is distinct and compelling. The pacing was engaging and entertaining.
Genre-wise, I'm not too sure where
The Bone Season
would fit in - with the MC, Paige Mahoney, being 19, it kind of straddles the line between older YA and New Adult (depending on your classification system). There are bits of science fiction, bits of urban fantasy, bits of paranormal romance, bits of speculative... That's maybe one of the most widely appealing facets of
The Bone Season
- because it transcends genre labels, it will conceivably appeal to a diverse audience.
There are also cleverly placed bits of intertext and literary allusions. The academic nature of Shannon's Oxford education definitely shines through. It was a bit confusing in the beginning of the story, what with all these unfamiliar terms and slang being tossed around. (There's actually a glossary in the back of the novel - I didn't notice until I was about two-thirds of the way through, but it probably would've come in handy as something to consult earlier on.) There are also quite a few British-isms as well, such as using the term 'torch' instead of 'flashlight', etc. European audiences may be more familiar with these, but for North American readers, this might add an extra level of mysticism.
With an exhilarating plot, an imaginative alternate world and an ensnaring voice,
The Bone Season
is an incredible debut novel. If this first installment is an indicator of Shannon's potential, then she's definitely destined for great things.
The Bone Season
will be one to watch out for in the upcoming season.
*Not sure how immediately noticeable it is in the photo, but the number 1 is the only one in metallic gold - the others are all blue.